Atomsmith Classroom Online
Put the Atomic-Level World in Students' Hands!    Subscribe Now
---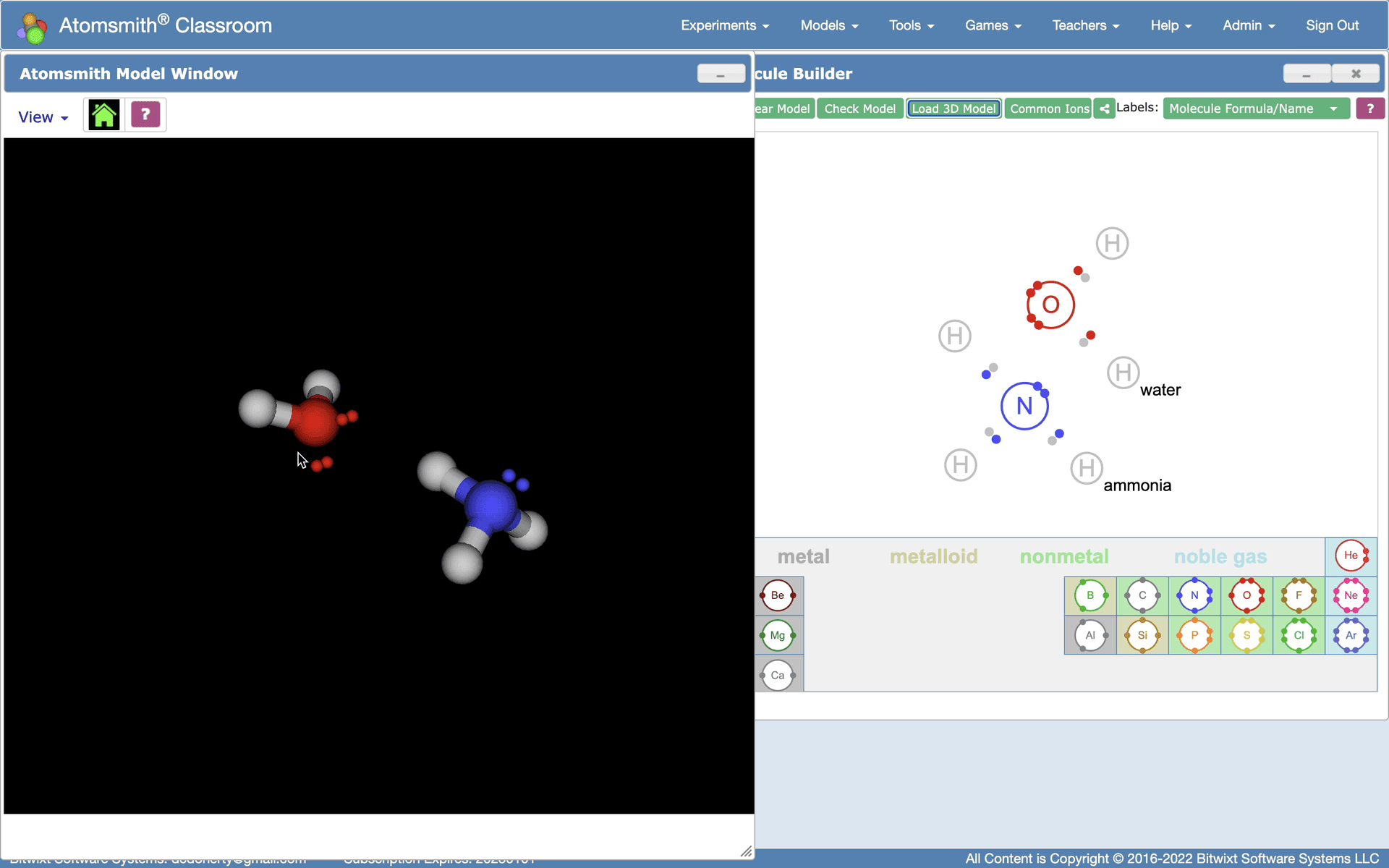 Build Lewis Structures of Molecules and Polyatomic Ions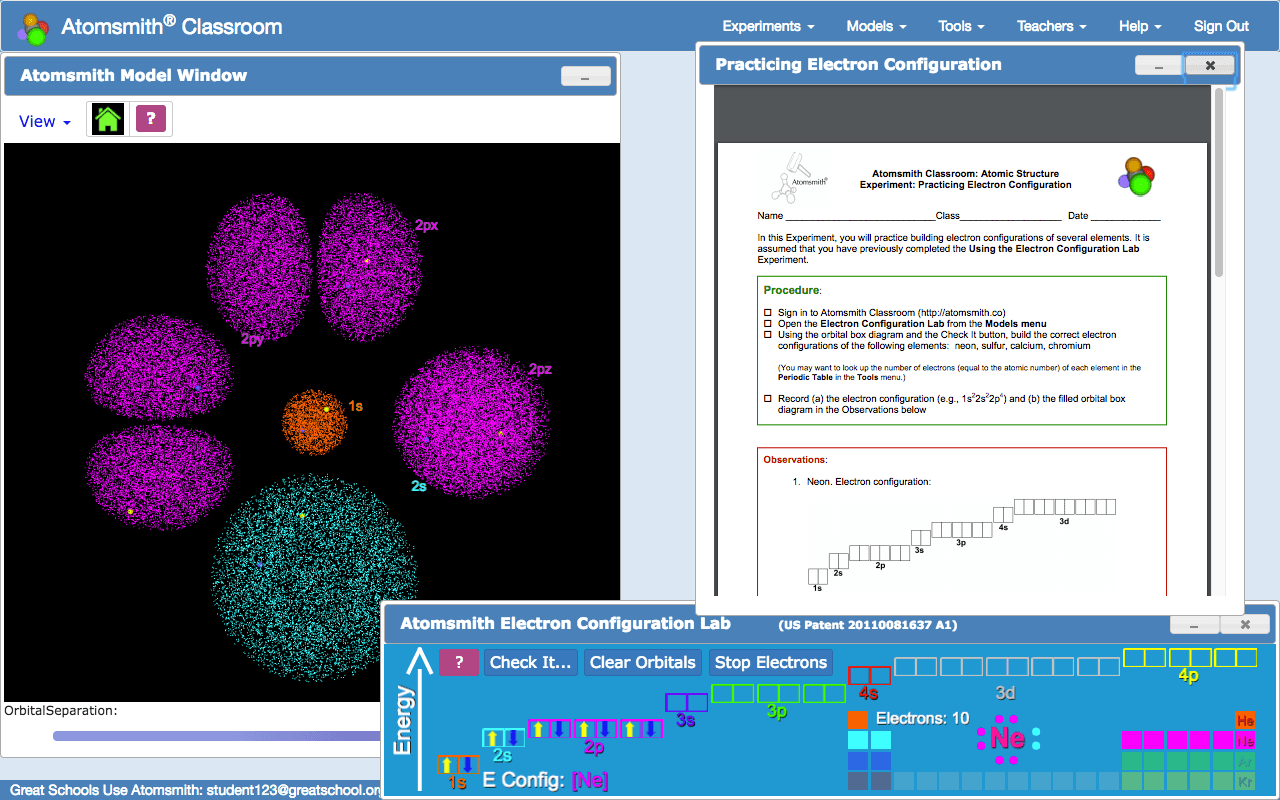 Atomic Structure: Electron Configuration Lab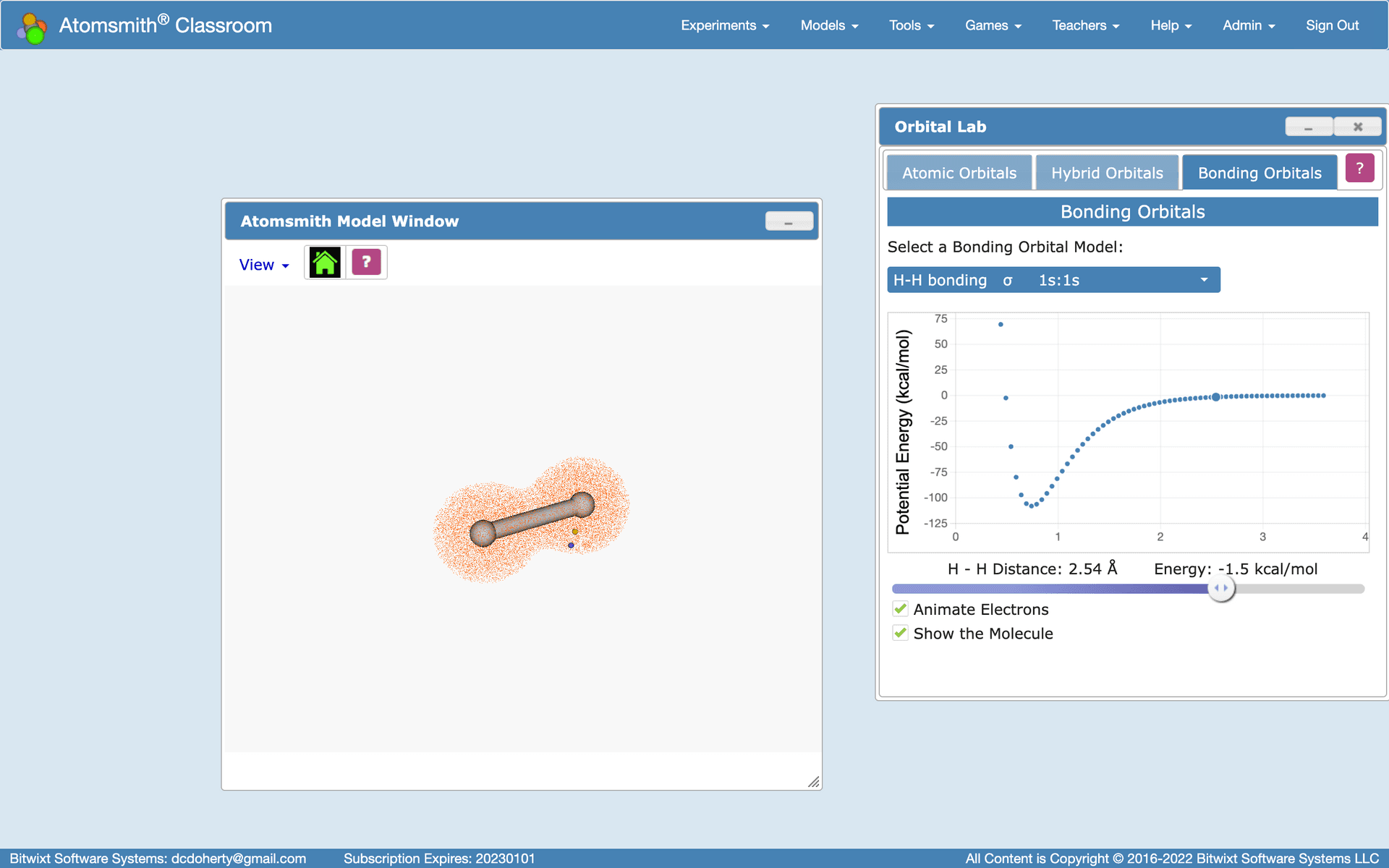 Chemical Bonding in the Orbital Lab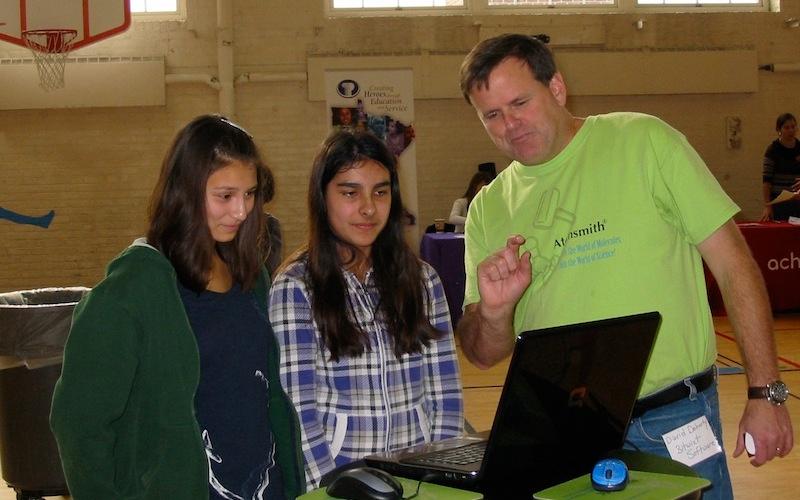 Student Engagement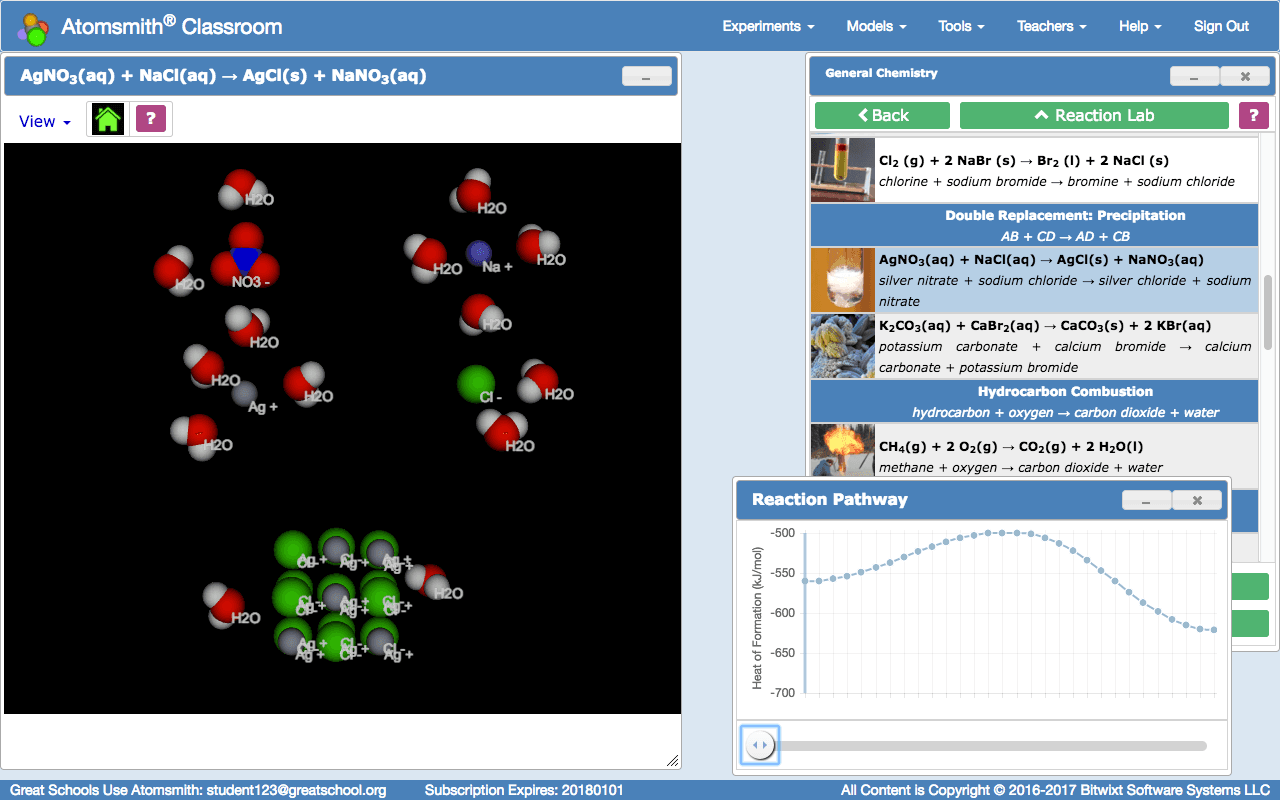 Chemical Reactions Lab: AgNO3(aq) + NaCl(aq) → AgCl(s) + NaNO3(aq)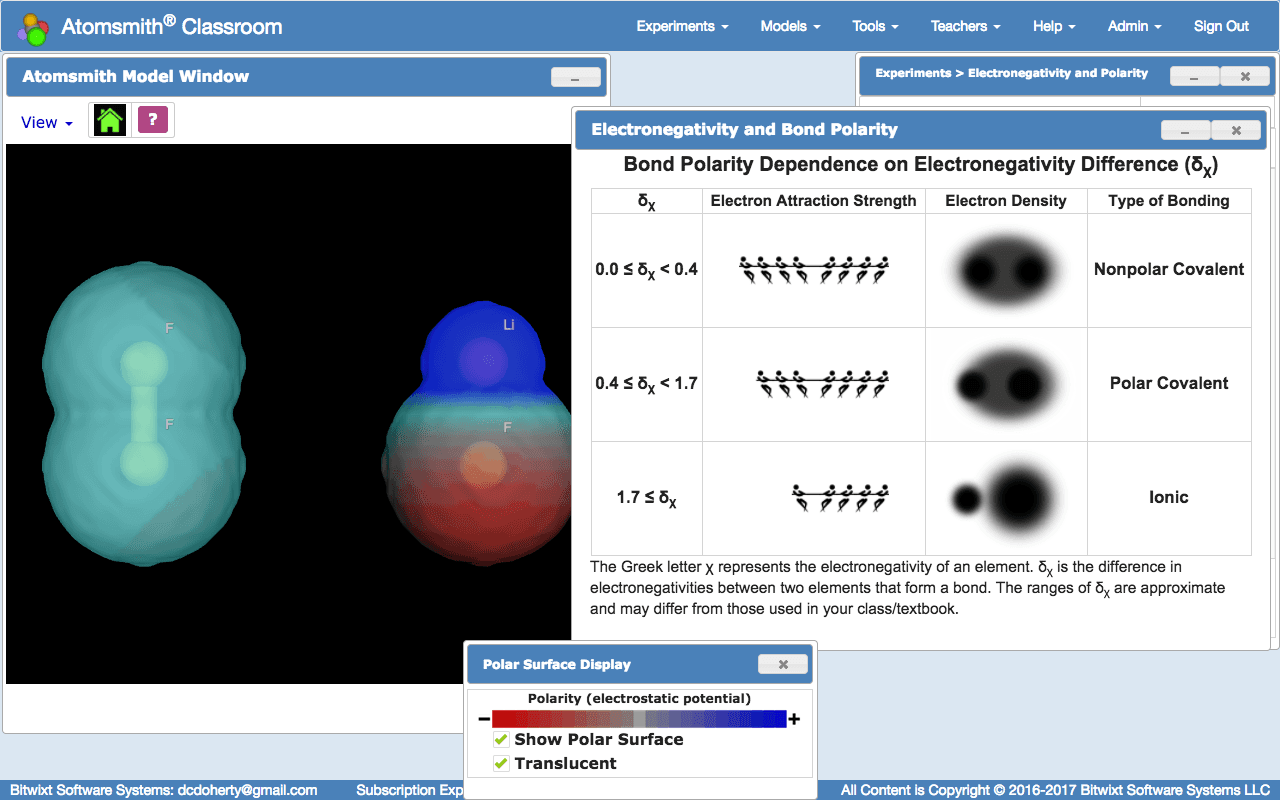 Electronegativity: Polar Surfaces of F2 and LiF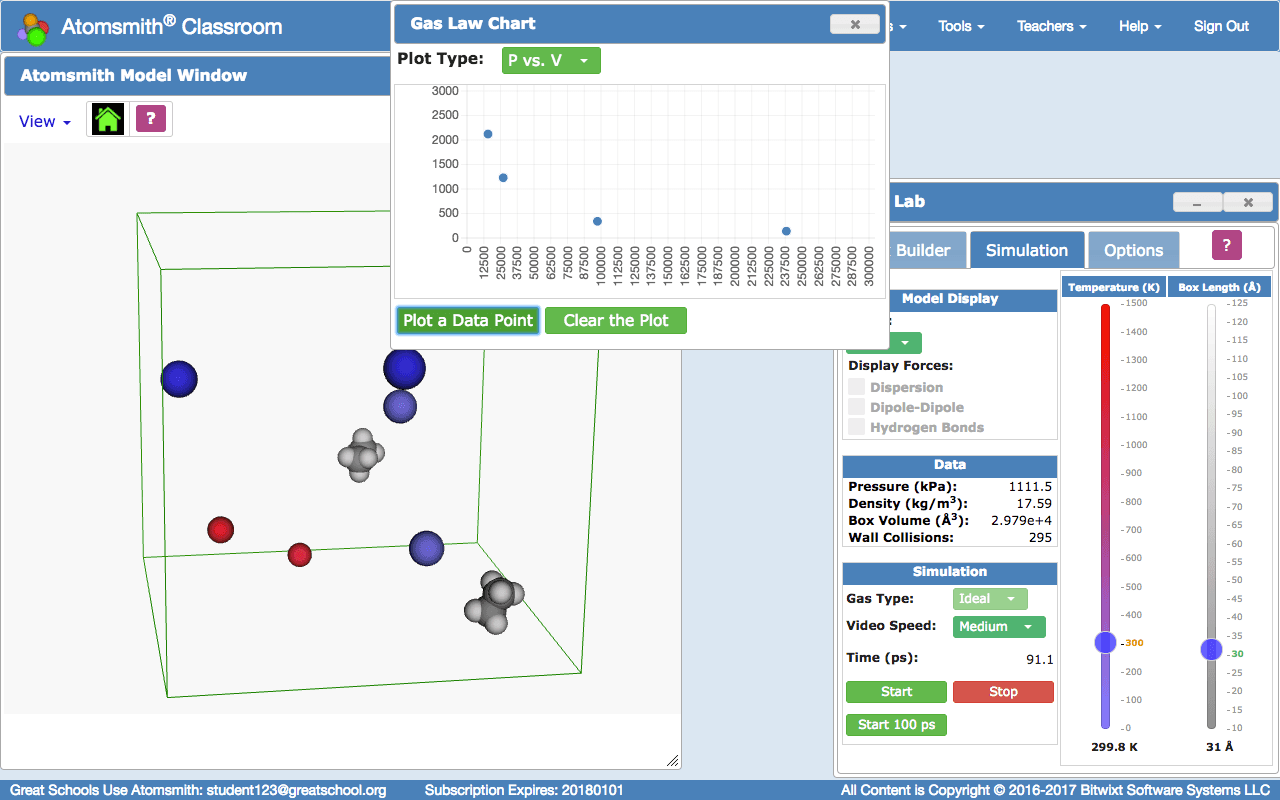 Ideal Gases and Boyle's Law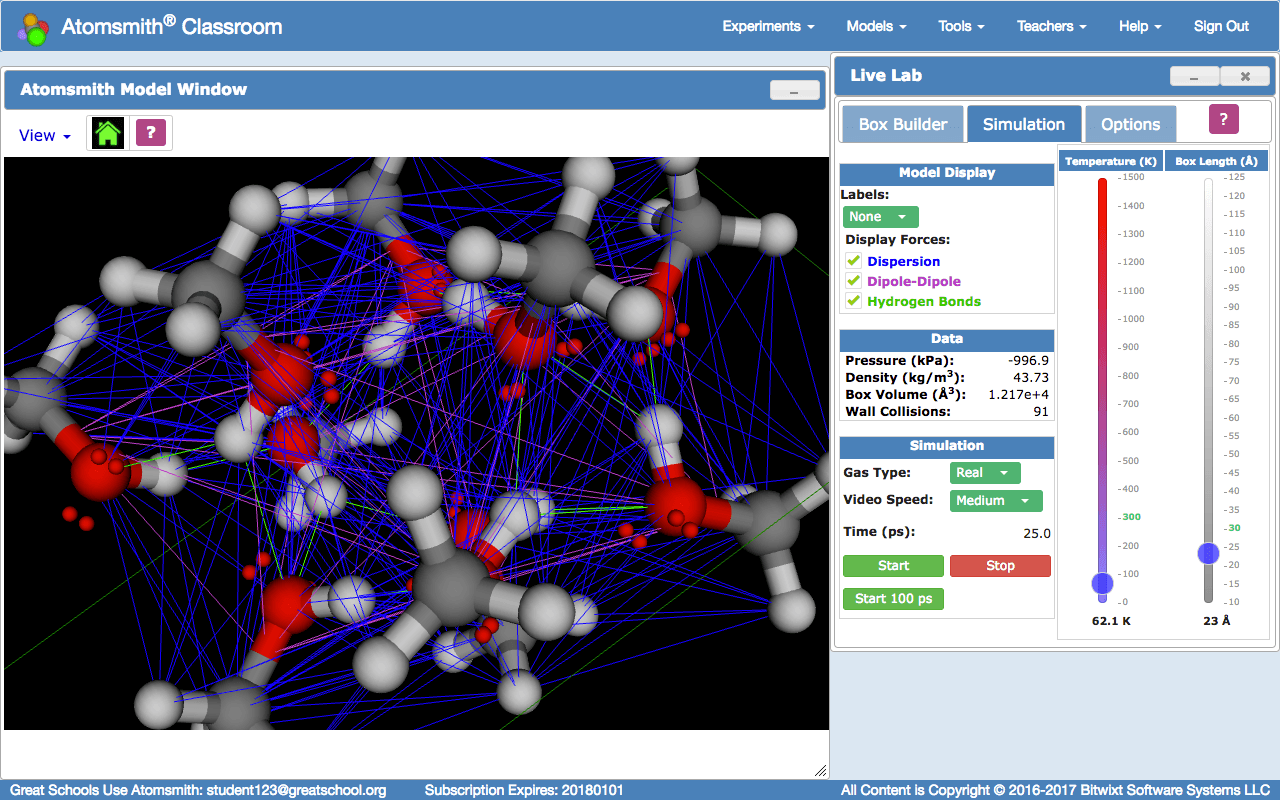 Intermolecular Forces: Live Lab Real Gas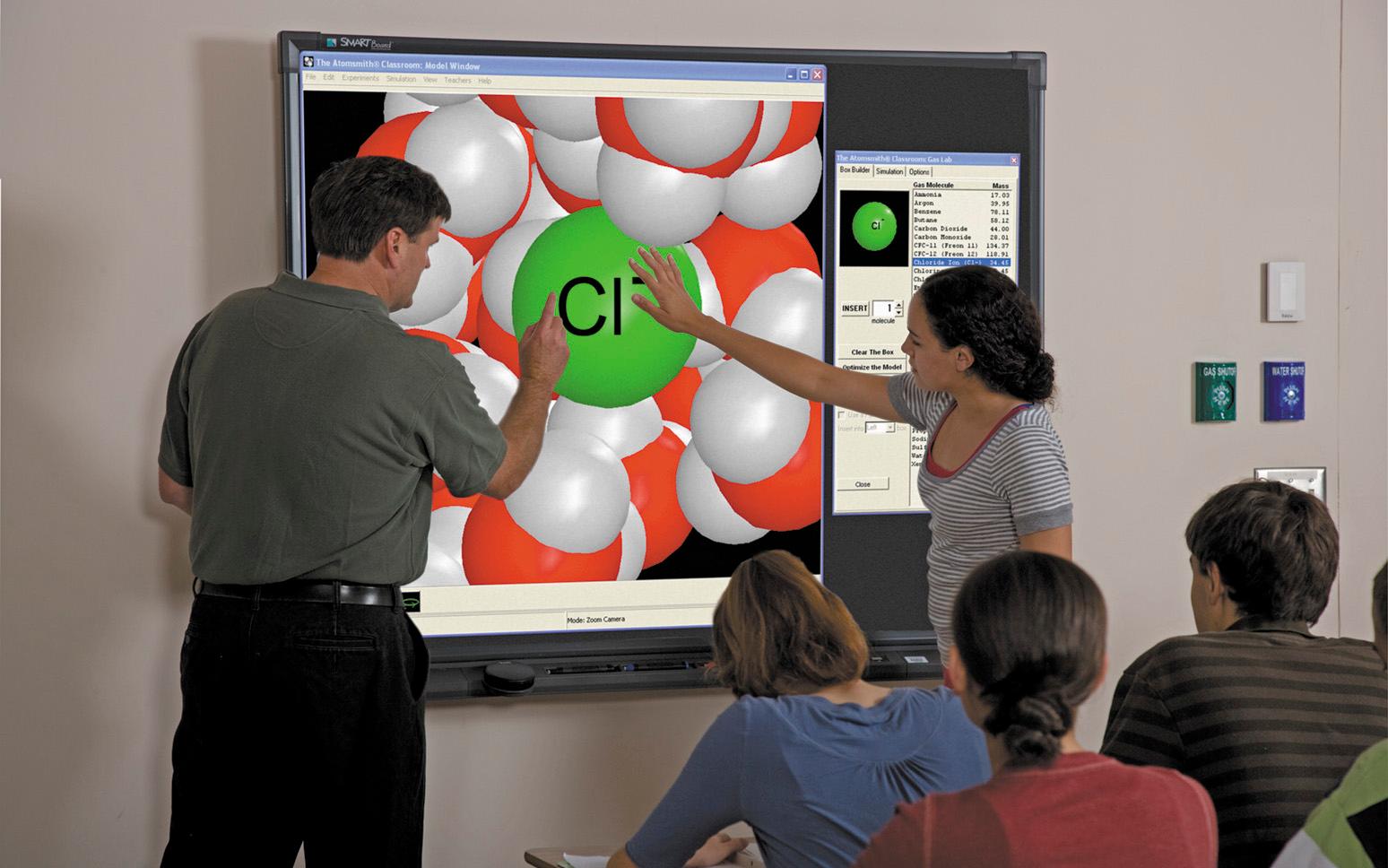 Lecture Visuals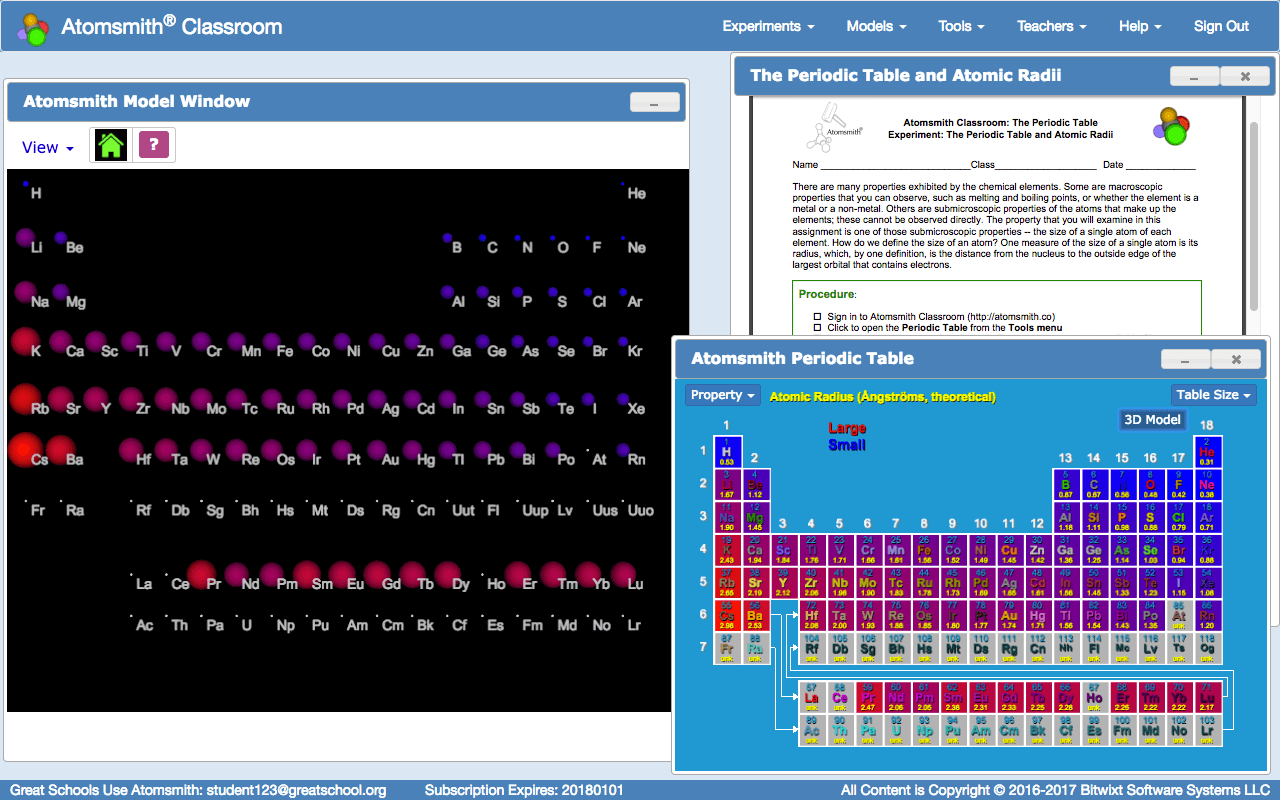 Periodic Trends: Atomic Radii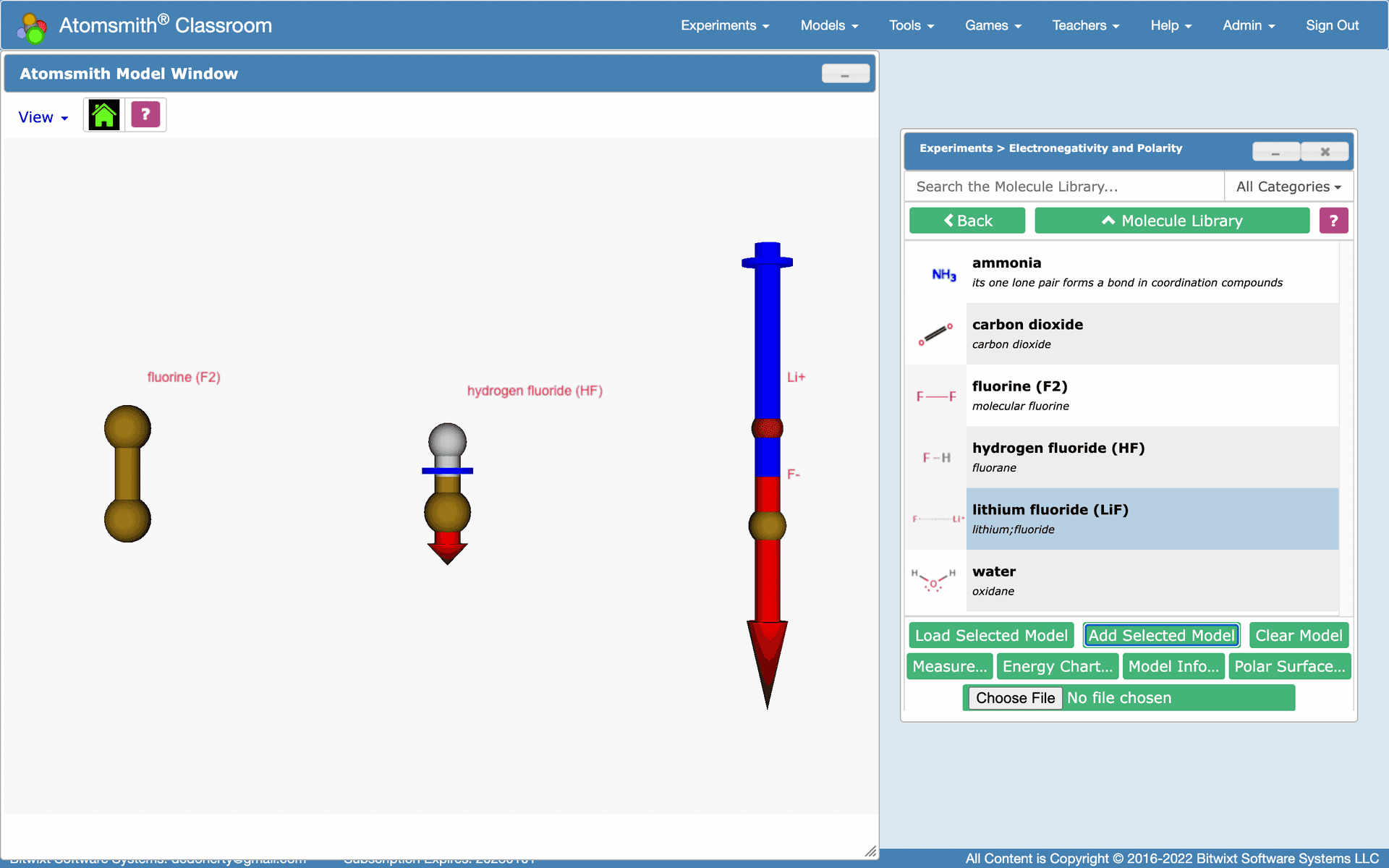 Polarity: Dipoles of F2, HF, and LiF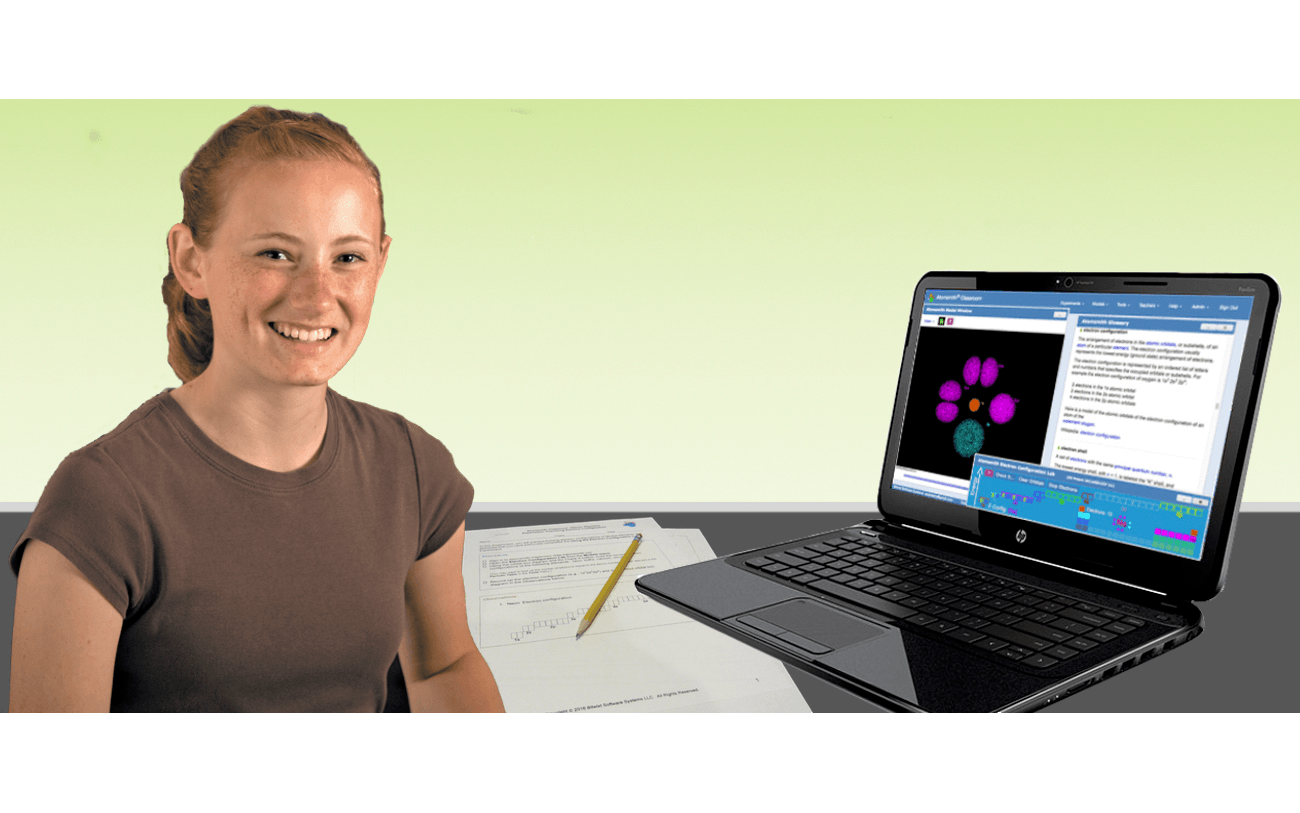 Personalized Learning + Homework: 80+ Guided-Inquiry Exercises
Solutions: NaCl in H2O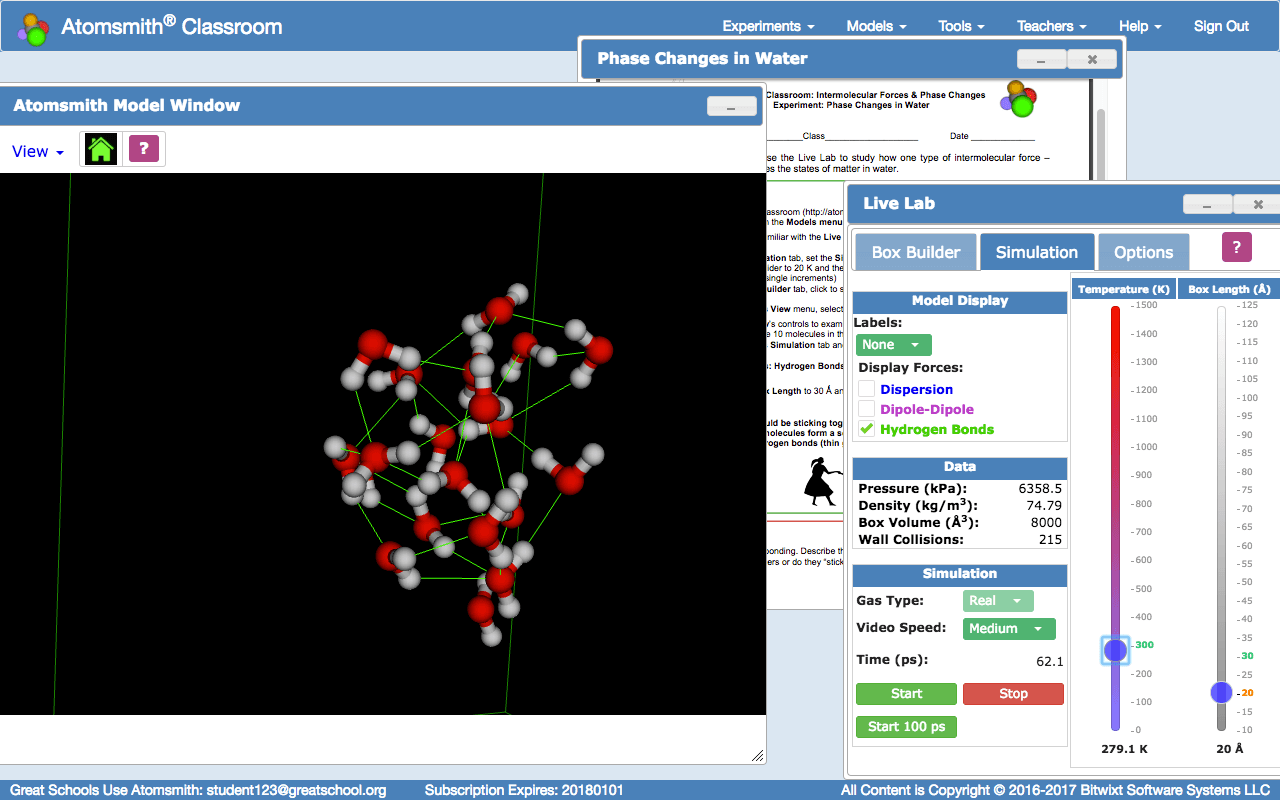 States of Matter: H2O H-Bonding Dependence on T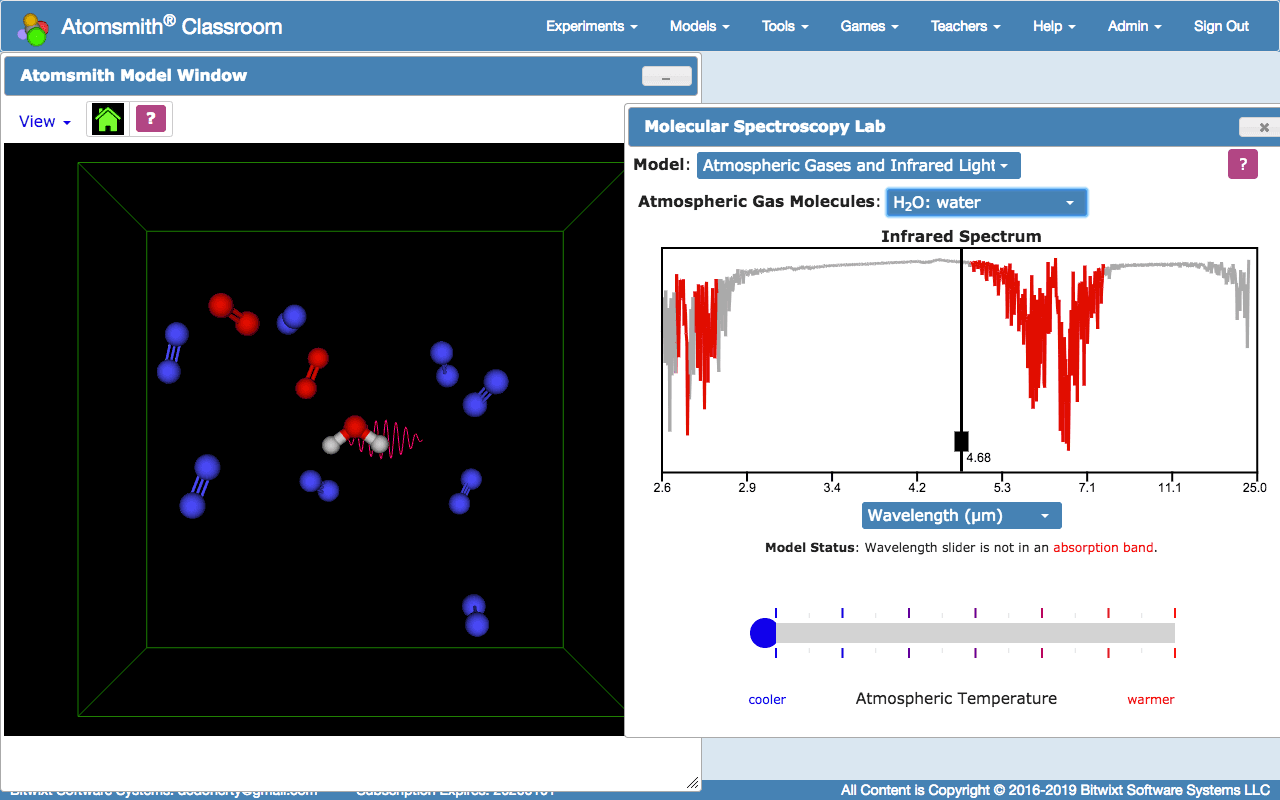 Climate Science: IR Absorption by Greenhouse Gases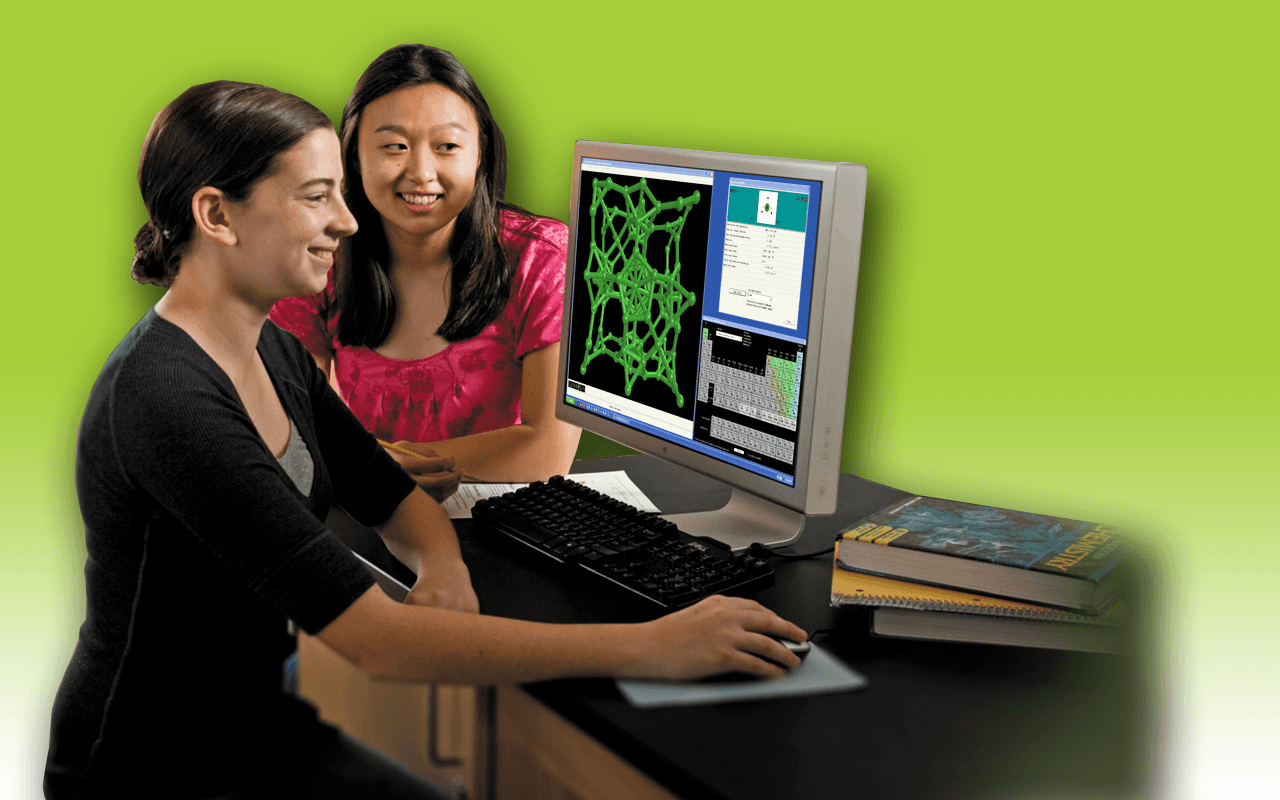 Think, Pair, Share!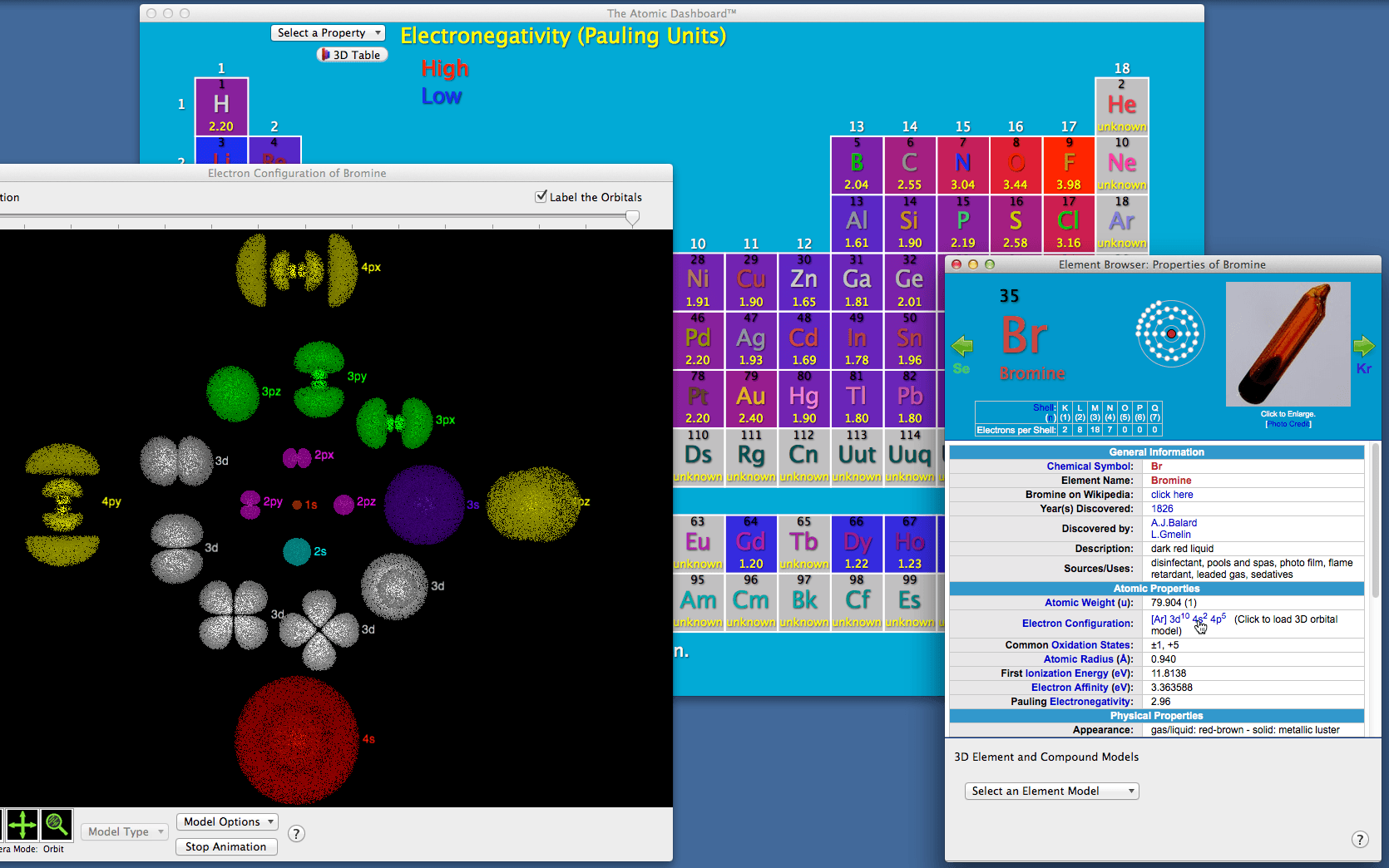 Periodic Table: e- Configuration of Br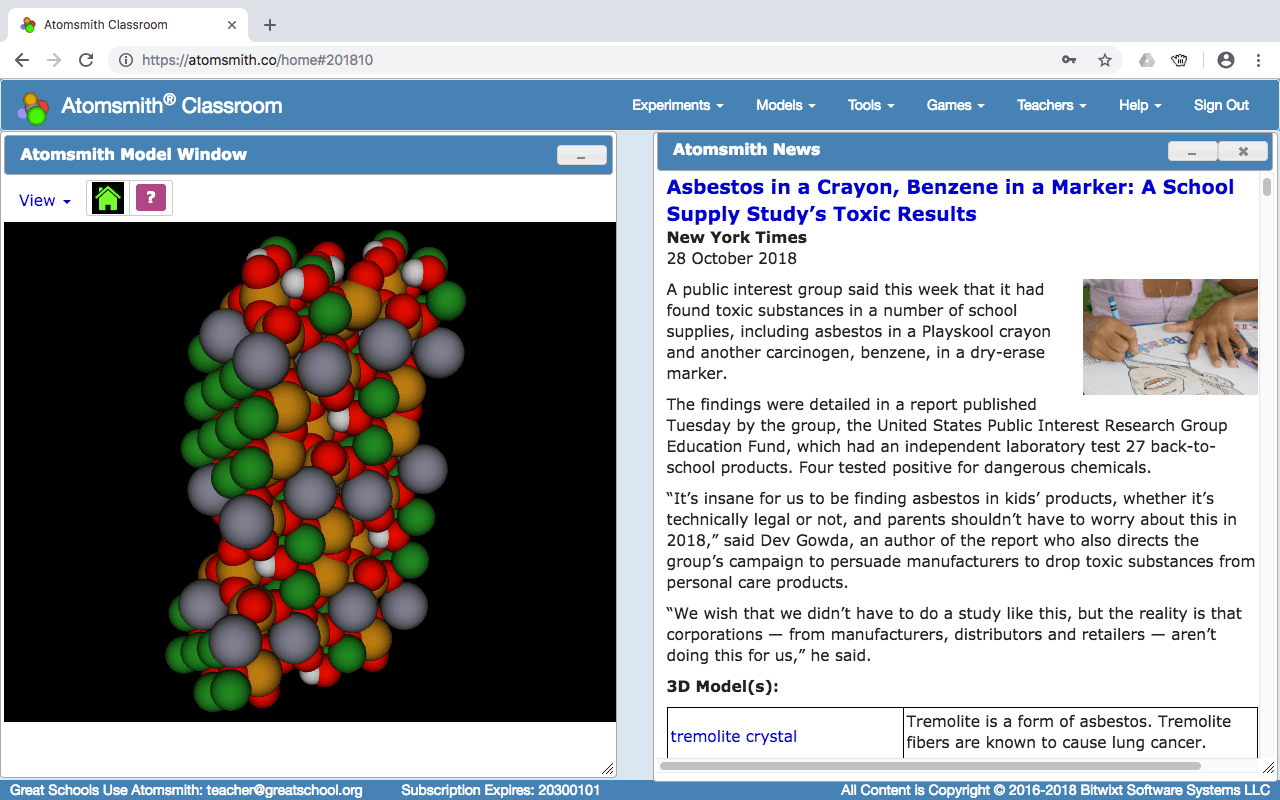 Atomsmith Demonstrates Chemistry in the News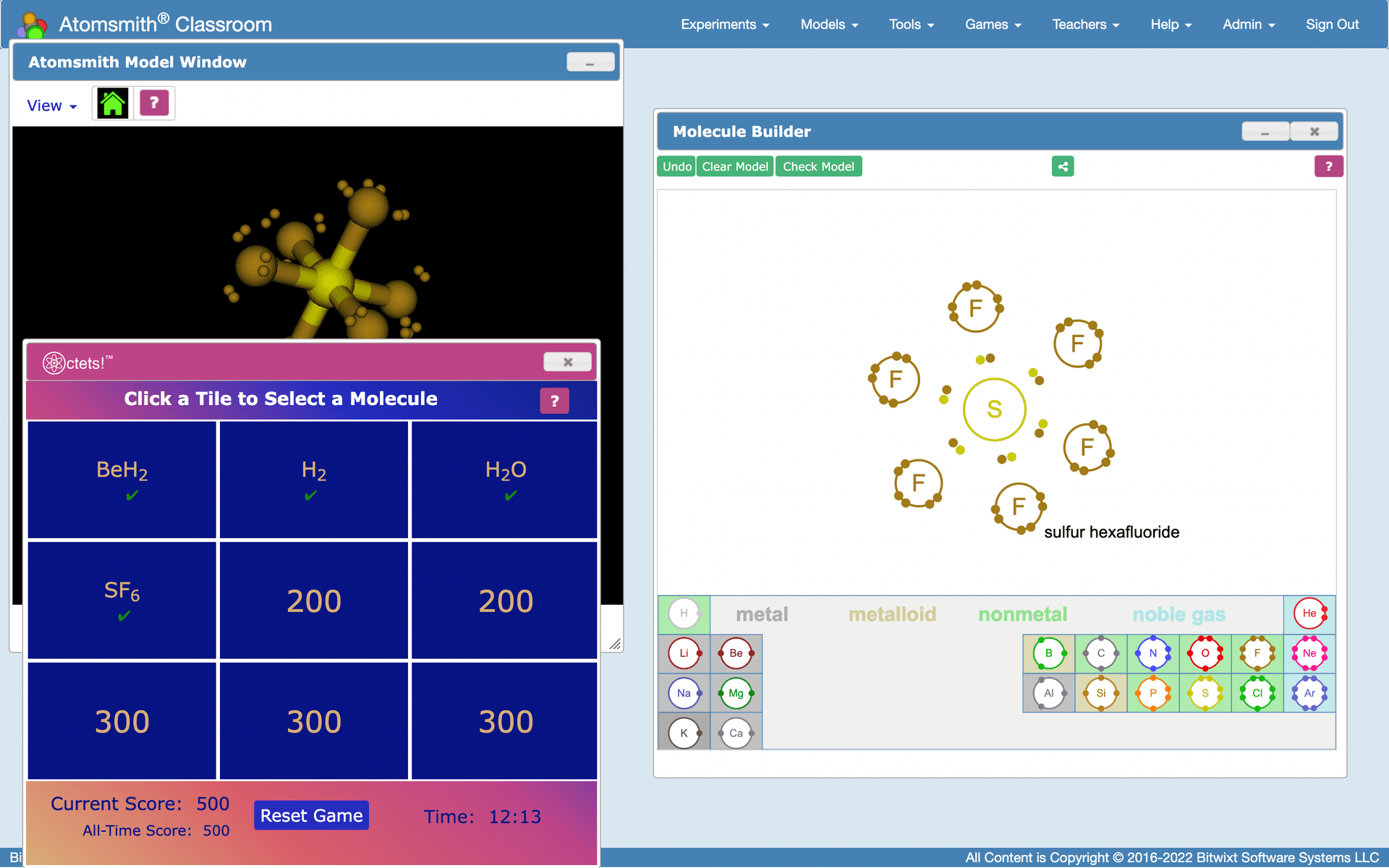 Octets! Game – Build Lewis Structures, Score Points!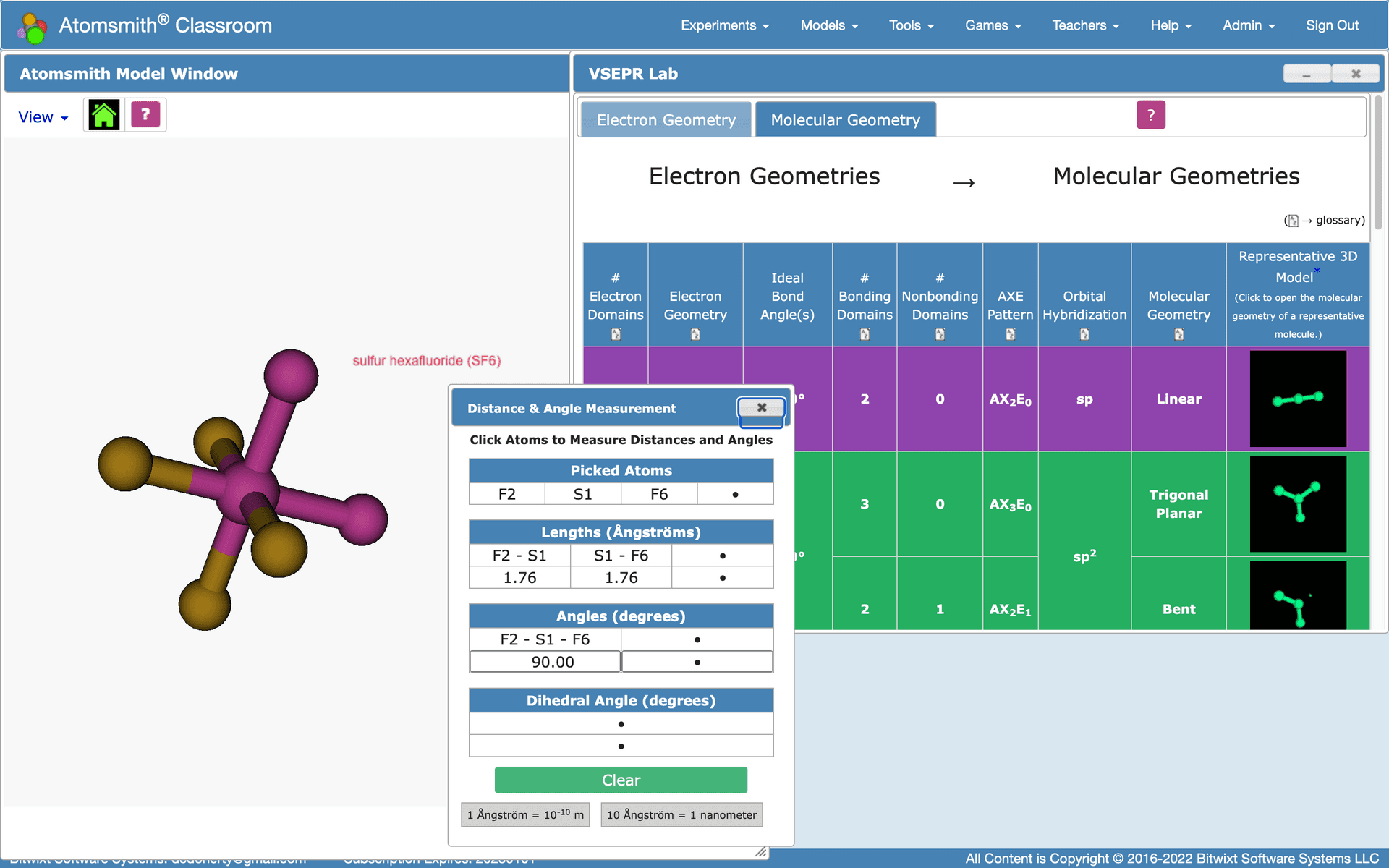 VSEPR Lab: Investigate Molecular Geometries – Measure Bond Angles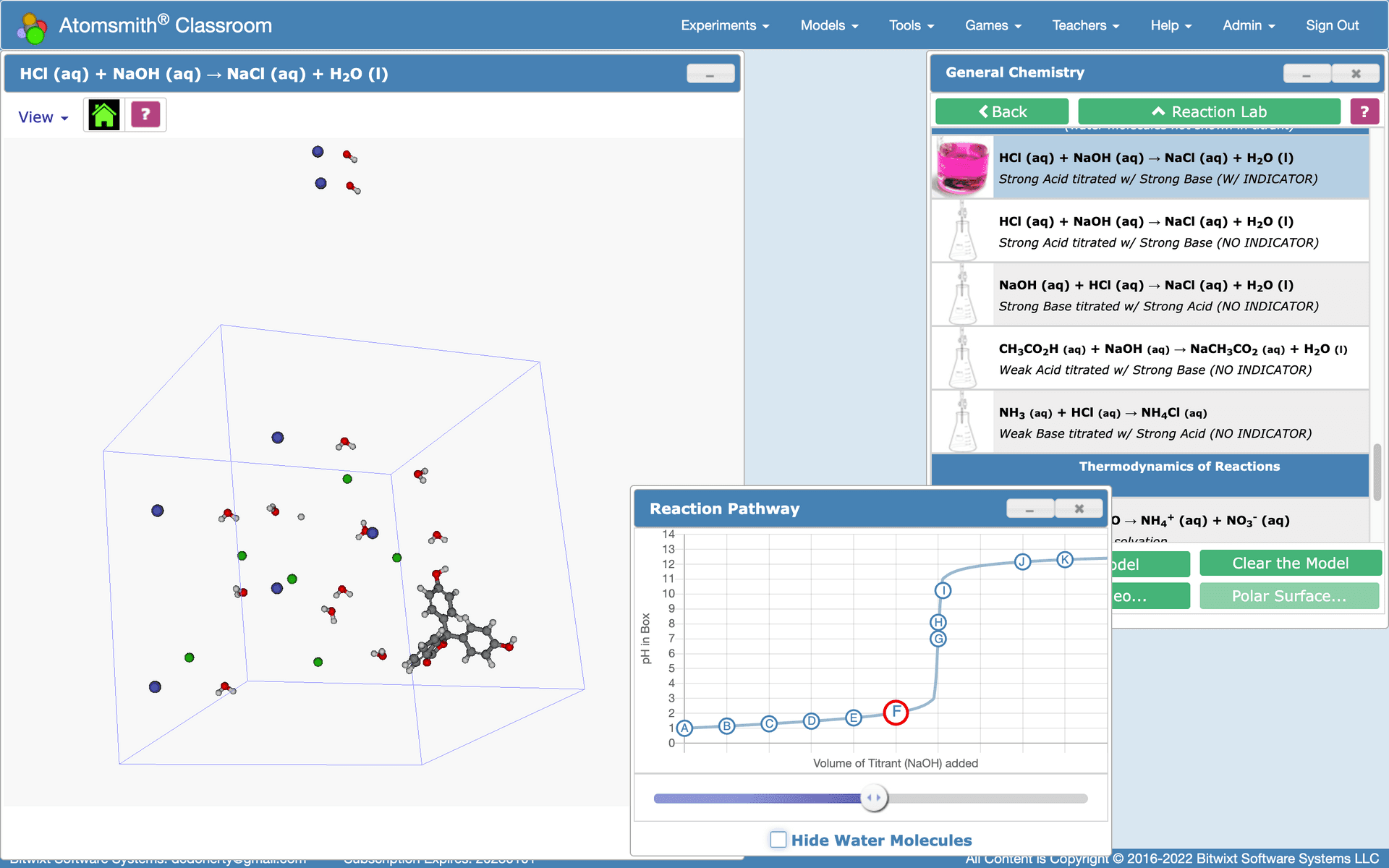 Particle Model of Titration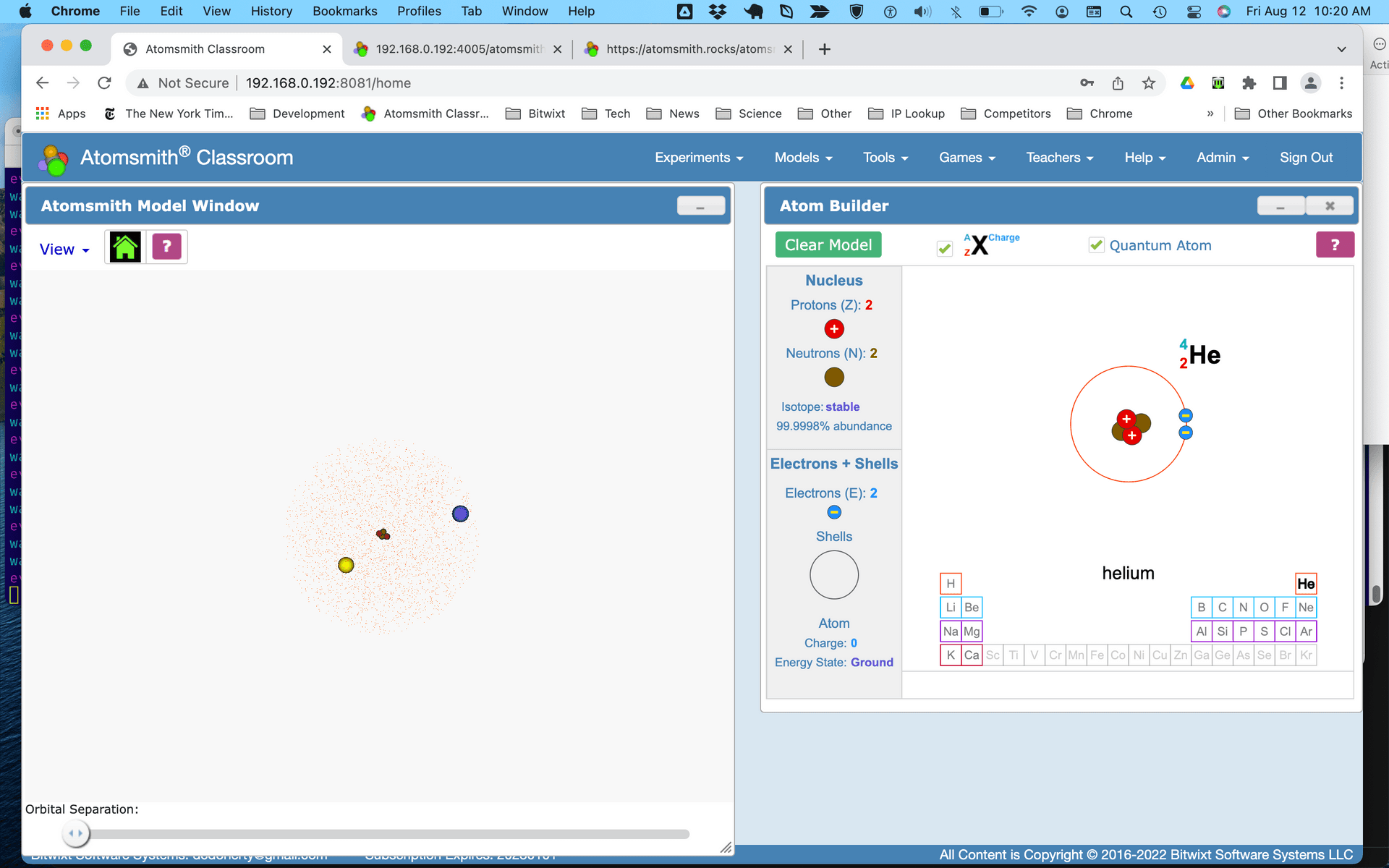 Atom Builder: Drag & Drop Protons, Neutrons and Electrons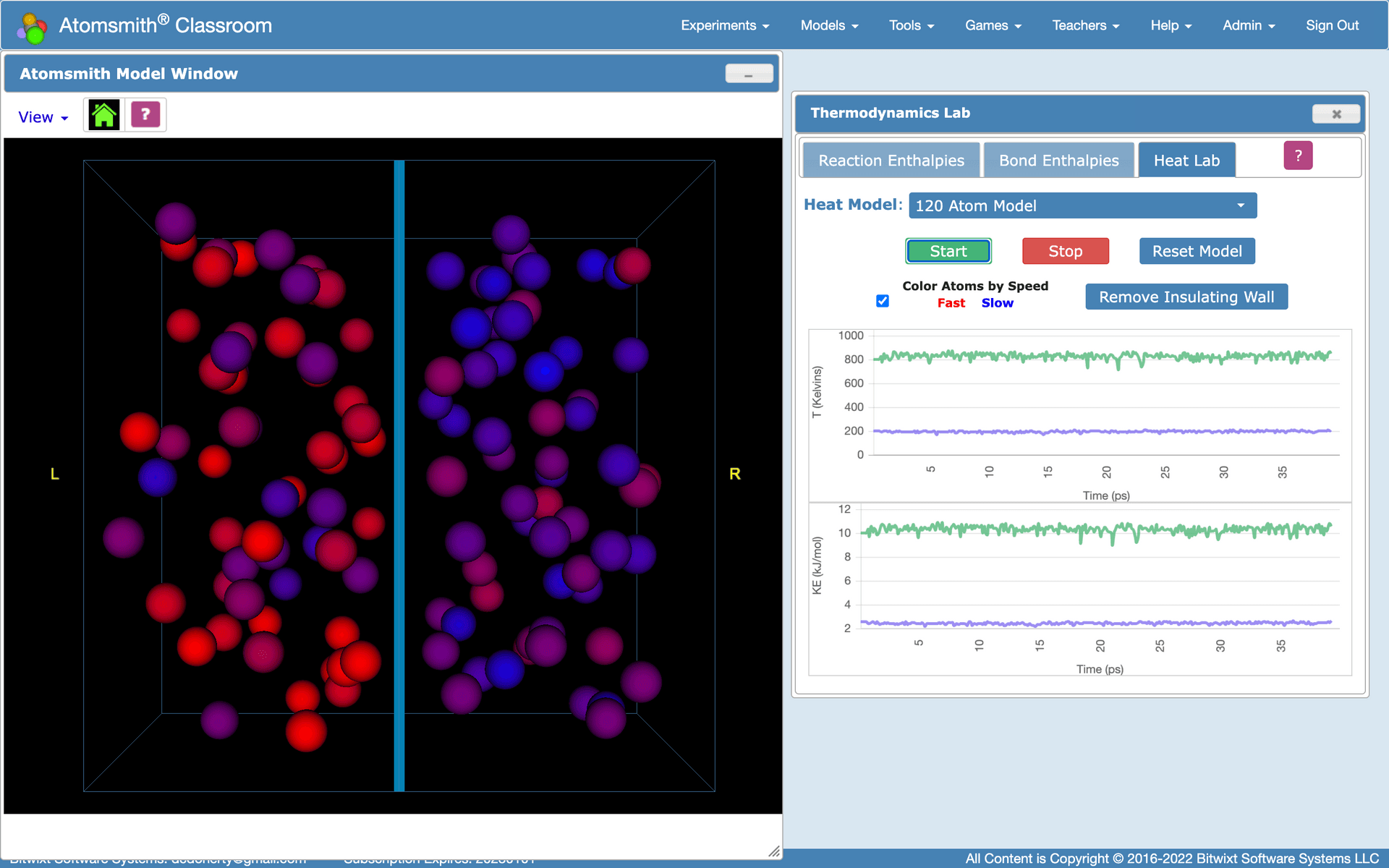 Thermodynamics Lab: Redistribution of Heat via Collisions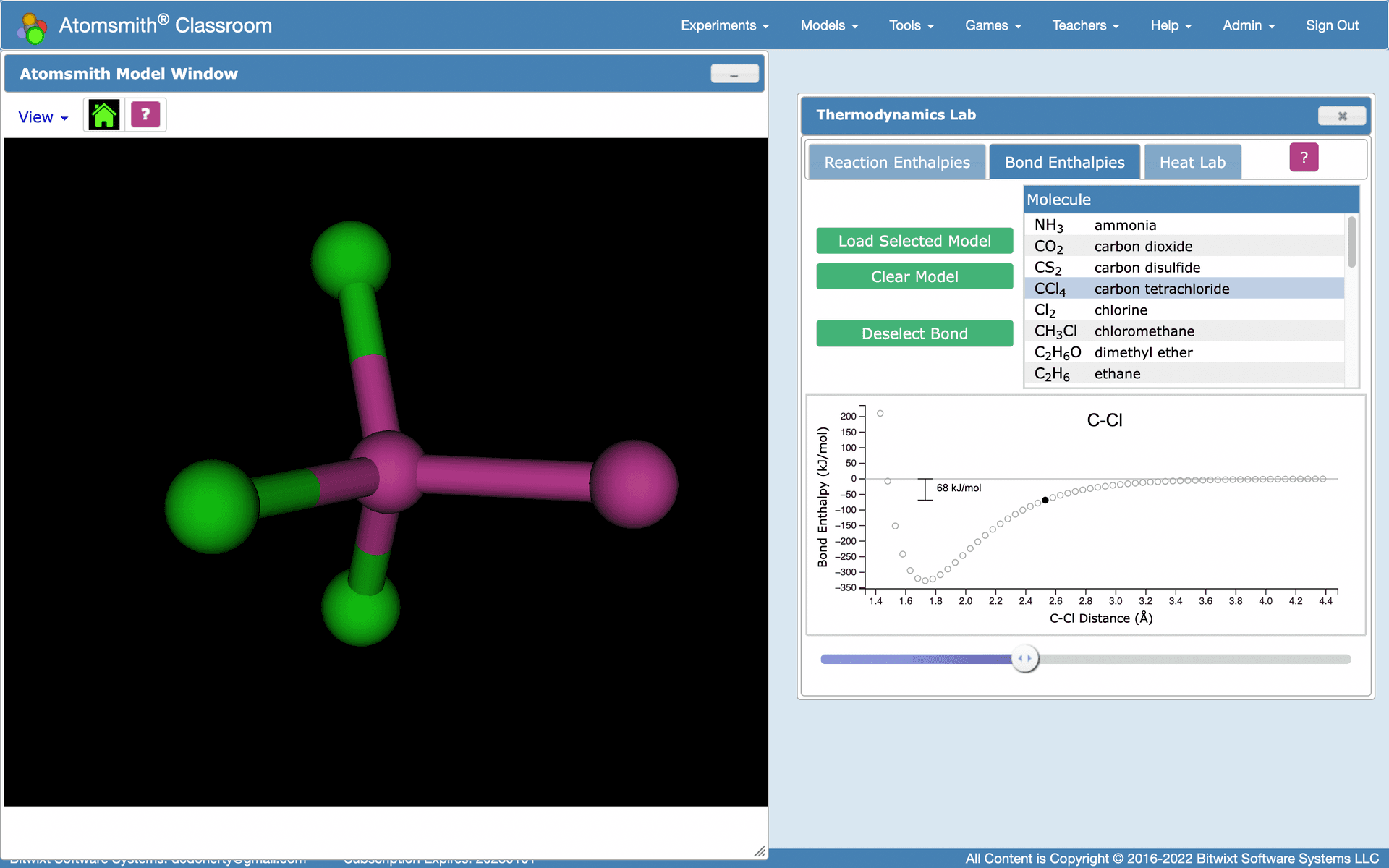 Thermodynamics Lab: Bond Enthalpies
---
Students say, "Chemistry is Hard" (They're not wrong.)
What makes chemistry hard?
For one thing, you will never understand chemistry just by mixing chemicals in a (the macro level).
Knowing what P, V, n, R, and T represent – or how they are mathematically related – won't do it either (the symbolic level).
You will never fully "get" chemistry until you also master what Prof. Alex Johnstone called the invisible – molecular – level (see the figure, leftabove).
And that is exactly why those who set the course of chemistry education recently have begun to emphasize the importance of particle models in chemistry and physical science curricula.
Atomsmith Classroom Online provides the most comprehensive, most scientifically accurate, and easiest-to-use collection of 3D interactive particle models for use in chemistry and physical science classrooms. Full Stop.
Atomsmith Models make the invisible
…V I S I B L E
---
Make the Difference for Your Students – Get Started Today!
Atomsmith Classroom Online is a web-based learning platform that is delivered via any desktop, laptop, tablet, or Chromebook browser.
Atomsmith provides your students with active, hands-on learning experiences that allow them to see, interact with, and perform virtual experiments on atoms and molecules. Students visually improve their understanding of a broad range of chemistry concepts by performing any of the 80+ guided-learning exercises (includes answers for instructors). And instructors and students can use Atomsmith's models and tools to design their own!
Atomsmith models are based on actual (peer-reviewed) physics-based models of atoms and molecules – developed by and for scientists. These models are not cartoons. They move, interact, and respond to changes in "experimental" conditions – they "know" chemistry. And they have been adapted to be easily understood and used by students. The earlier your school introduces Atomsmith models (think middle school), the sooner students will begin to develop and recognize molecular-level thinking.
Along with a rich array of supporting materials (glossary, interactive periodic table, annotated original scientific papers, an atomic theory timeline, and more…), Atomsmith models will help students to connect the macro, symbolic, and molecular levels of chemistry.
The best way to learn how Atomsmith will enhance your students' understanding is to try it yourself. We offer free trial licenses to teachers / instructors at accredited educational institutions.
Click to request a free trial .
Atomsmith is available by annual subscription:
US $19.99/instructor/year
US $1.00/student/year
Click to subscribe and make Atomsmith available at your school and to your students.